Wine consumption in the World 2018
After having observed an almost constant upward trend in world wine consumption since 2014 – due in
particular to increased consumption in the United States and China, as well as a stabilisation of
consumption in the main European wine-producing countries that are traditionally consumer countries
– 2018 appears to mark an end to the growth in world wine consumption, influenced primarily by a
slight decrease in consumption in China and in the United Kingdom.  
Developments in wine consumption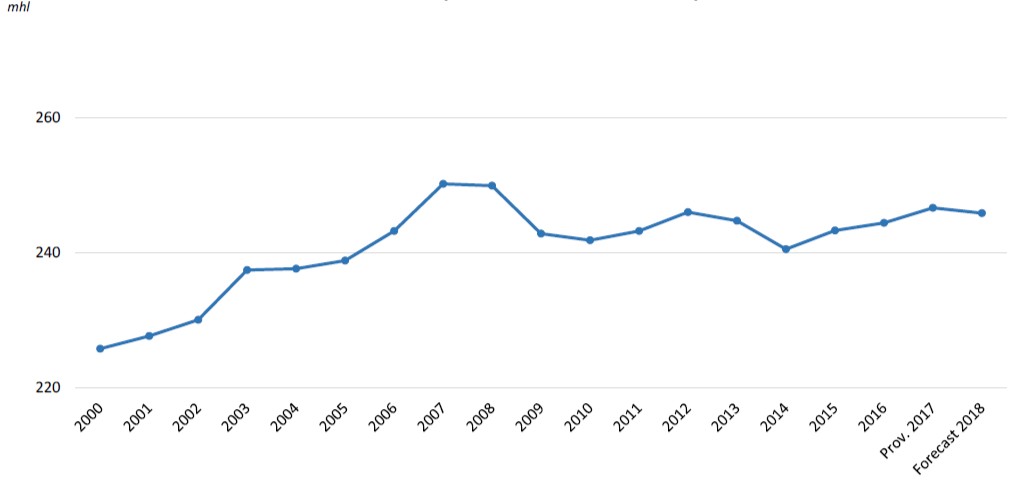 World wine consumption in 2018 is estimated at 2465 mhl, a slight decline on 2017; given the margin of error in tracking global consumption, this figure should be considered with caution.
For this estimation of consumption, it is necessary to also take into consideration the very low 2017 level of wine production which, in a balance sheet-based method of analysis 6 , constrained the level of consumption in the majority of producer countries.
Trends in the main consumer countries  
Developments in consumption levels should be interpreted with caution, since the balance sheet-based methodology remains statistically risky, especially for the numerous countries where data on stocks or industrial uses of wine is not fully known.
The United States, the largest world consumer since 2011, continued to record an increase in domestic demand. In 2018 the country reached 33.0 mhl, a slight rise compared with the preceding year (+1.1%). There has been an almost constant growth in consumption since 2010 of around 1 mhl/year.
In South America, consumption declined between 2017 and 2018, particularly in Argentina (8.4 mhl: -6.3% / 2017) and in Chile (2.3 mhl: -1.5% / 2017). Nevertheless, 2018 consumption in Brazil, estimated at 3.6 mhl, remained almost stable compared with 2017.
In traditional producer and consumer countries in Europe, consumption stayed virtually stable compared with the previous year in France (26.8 mhl) and Italy (22.4 mhl). In Germany, the information shows a stabilisation in consumption at a level of 20.0 mhl. Spain, for the third year running, slightly increased its consumption in 2018 and reached 10.7 mhl. Portugal also recorded an increase in its wine consumption, reaching 5.5 mhl in 2018. In Romania (4.5 mhl) and Hungary (2.4 mhl), domestic consumption grew between 2017 and 2018, although it is difficult to monitor consumption of their own production. Wine consumption in the United Kingdom is estimated to have decreased in 2018 to 12.4 mhl (-2.6% / 2017).
With regard to China, 2018 consumption is estimated at 18.0 mhl, which would represent a 6.6% drop compared with 2017. The rapid increase in consumption since the beginning of the 2000s appears to have come to a sudden end. As mentioned above, the balance sheet-based method of analysis of consumption should be treated with caution, because more often than not the situation of stocks and processing is not taken into account and a low production level, like that recorded in 2017, can impact on the estimation of the 2018 consumption level.  
South African consumption also saw a slight decrease between 2017 and 2018, to reach 4.3 mhl.
In Oceania, Australian domestic demand continued to rise, and reached 6.3 mhl (+6.1% / 2017), while New Zealand consumption remained almost stable at 0.9 mhl.  
Wine consumptiona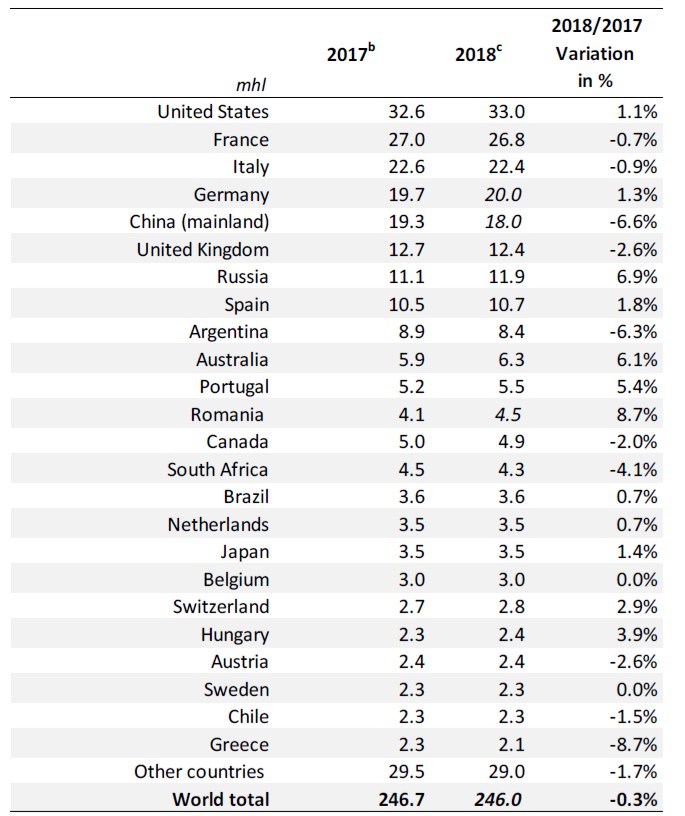 a) Countries for which information has been provided with 2018 wine consumption of more than 2 mhl
b) 2017: provisional data
c) 2018: forecasted data
Figure in italics: OIV estimate
Sources: OIV, OIV Experts, Trade Press