Wine production in the World 2018
World wine production (excluding juice and musts)4 is estimated at 292.3 mhl for 2018, a marked rise of 42.5 mhl compared with 2017 production, which was historically low.
Developments in world wine production
(excluding juice and musts)

Trends in the main producer countries
For the majority of countries in Europe, production has seen a significant increase compared with 2017.  
Wine production in Italy (54.8 mhl), France (49.1 mhl) and Spain (44.4 mhl) grew notably in relation to 2017. The harvests in these three countries recorded respective rises of 12.3 mhl, 12.7 mhl and 11.9 mhl compared with 2017, which was a year marked by a historically low harvest due in particular to the unfavourable weather conditions. When measured against the five-year averages (2013–2017), the 2018 harvests of these three countries are greater, by 13.3%, 13.0% and 14.1% respectively.  
Lesser increases were recorded for Germany (9.8 mhl), Romania (5.1 mhl), Hungary (3.6 mhl), Austria (2.8 mhl) and Switzerland (1.1 mhl), which even so demonstrated respective variations of +2.3 mhl, +0.8 mhl, +1.1 mhl, +0.3 mhl and +0.3 mhl compared with 2017. These increases are more contrasted if viewed in parallel with these countries' five-year production averages, demonstrating respective rises of 13.7%, 26.7%, 31.6%, 24.0% and 23.7%. Finally, and to a lesser extent, Moldova (1.9 mhl) recorded poor growth in the volume of wines produced (+0.1 mhl), 4.9% above its five-year average, which can be attributed in particular to the lesser cultivation of smaller viticultural plots.  
However, the weather conditions were less favourable for some European countries. This was the case for Portugal (6.1 mhl) – where the weather conditions favourable to bouts of downy and powdery mildew impacted production –, Russia (6.5 mhl), Greece (2.2 mhl) and Bulgaria (1.0 mhl), which respectively went down by 1.5 mhl, 2.4 mhl, 0.4 mhl and 0.1 mhl in 2018, equating to significant drops compared with their five-year averages (-18.2%, -28.4%, -21.2% and -17.1% respectively).  
Vinified production in the European Union in 2018 is estimated to have reached 181.9 mhl, a clear rise of 28.3% compared with 2017 (+40.1 mhl). This situation is the result of highly favourable weather conditions in the main European producer countries, contrary to 2017, which saw cumulative unfavourable conditions during the production season.  
With respect to Asia, the data available for China indicates an estimated vinified production of 9.3 mhl in 2018, marking a decrease of 2.3 mhl since 2017.  
In North and South America, developments are more contrasted. Estimated at 23.9 mhl excluding juice and musts, 2018 wine production in the United States was 0.5 mhl higher than 2017 and 2.7% greater than its 2013–2017 five-year average. Argentine production, with 14.5 mhl vinified, increased by 2.7 mhl compared with the relatively low 2017 production, surpassing its 2013–2017 five-year average by 12%. In Chile, 2018 production grew significantly compared with 2017 (+3.4 mhl), with 12.9 mhl, corresponding to the high production levels already encountered in 2012, 2013 and 2015, and exceeding its five-year average by 16.8%. As for Brazilian production, there was a reduction after the record-high harvest documented in 2017; even so, the country's 2018 production levels of 3.1 mhl were still 20.2% above the five-year average.  
In South Africa, 2018 production excluding juice and musts reached 9.5 mhl, corresponding to a decrease of 1.4 mhl compared with 2017 and a drop of 14.1% below its five-year average, which may be explained particularly by the impact of the drought.
With regard to Oceania, Australian production was marked by an end to the growth recorded since 2014; yet with 12.9 mhl vinified, it was still 2.2% above its five-year average while its vineyard surface area remained stable. New Zealand production was 3.0 mhl, up 0.2 mhl on 2017, and slightly above its 2013–2017 five-year average of 2.8 mhl.  
Wine production (excluding juice and musts)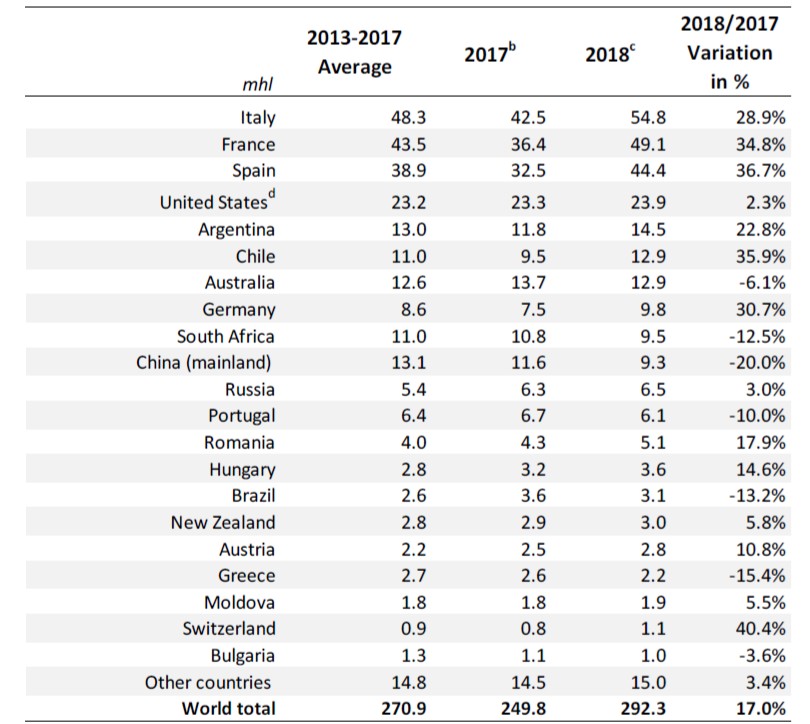 a) Countries for which information has been provided with 2018 wine production of more than 1 mhl
b) 2017: provisional data
c) 2018: forecasted data
d) OIV estimate (USDA basis)
Figure in italics: OIV estimate
Sources: OIV, OIV Experts, Trade Press