Viticultural production potential in the World 2018
The 2018 world area under vines, corresponding to the total surface area planted with vines, including that  not  yet  in  production  and  for  all  purposes  (wine,  table  and  drying), is  estimated  to be  almost equivalent to that of 2017,reaching7.4mha.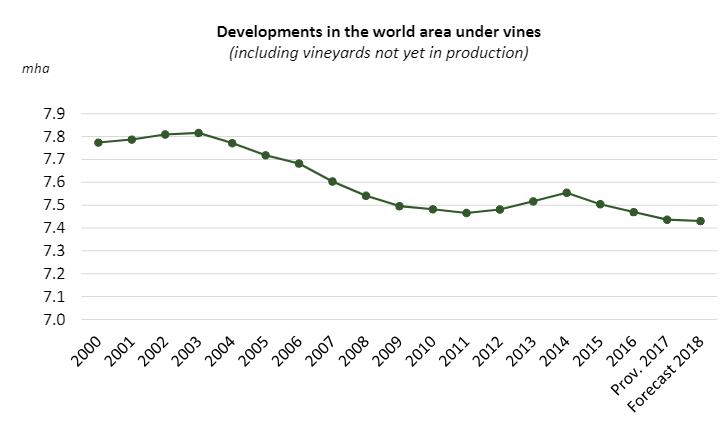 A fall can be observed in the world area under vines since 2014, caused in particular by the reduction in vineyard surface area in Turkey, Iran, the United States and Portugal.  
Trends in the main wine-producing countries
In Europe, the latest available data indicates a stabilisation in vineyard surface area in Spain(969kha), France(789kha), Romania(191kha), Greece(106kha), Germany(103kha) and Switzerland(15kha). The area under vines in Italy, on the other hand,is estimated to have grownby around 5kha between 2017 and 2018 to reach 702kha.   
Only  two  European  countries  seemto have recordeda  slight  decline  in  their  vineyard  surface  areas between 2017 and 2018. Moldova, with 147kha, demonstrates a reduction of 4.3kha in its surface area, explained in particular by the transformation of its vineyards, which werehistorically composed of small plots that are currently being restructured. Portugalrecorded a decrease of 1.3kha, reaching 192kha, explained especially by the grubbing-up of plots.  
Overall stability can be observed in EU vineyards, which stand at 3.3mha. This can be attributed on the one  hand  to  the  end  of  the  European  Union  programme  (2010/2011  harvest)  to  regulate  viticultural production potentialin the EU1,and on the other hand to the implementation of the new regime for the management  of  viticultural  production  potential2,  which  since  2016  has  enabled  Member  States  to authorise planting of up to an annual growth of 1% of the vineyard already planted.   
In Asia, after over 10 years of significant expansion, the growth of Chinese vineyards(875kha) slowed, while Turkey(448kha) saw thesize of its vineyard area stabilise in 2018 after a sustained decrease since 2003.  Thus,  after  having  been  the  main  centre  of  vineyard  growth  in  the  world,  Asia appears  to  be experiencingstabilisation inits vineyard surface area.   
As regards North and South America, developments in vineyard surface area between 2017 and 2018 exhibit a downward trend. In the United States, the figurehas been slowlydecreasingsince 2014, and the  OIV  estimates  its  surface  area  at 430khain  2018. Argentina'svineyardspursued theirdecline  to reach 219kha(-2.8kha compared with 2017). Chilealso saw its vineyard area fall by 1.3kha, arriving at 212kha.  Likewise, Brazilcontinued  its  downturn, and  now  stands at 82kha(-2.2kha  compared  with 2017).  The  only  country  in  North  and  South  America to  have  increased  its vineyard surface  area was Mexico, reaching 34kha.  
South Africanvineyardscontinued theirdecline begun in 2012, to stand at 125khain 2018.   
In Oceania, therecent downturn inAustralianarea under vines (145kha) seems to have slowed,while theNew Zealandsurface area remained almost stable, with around 39kha.  
Area under vines in main wine-producing countriesa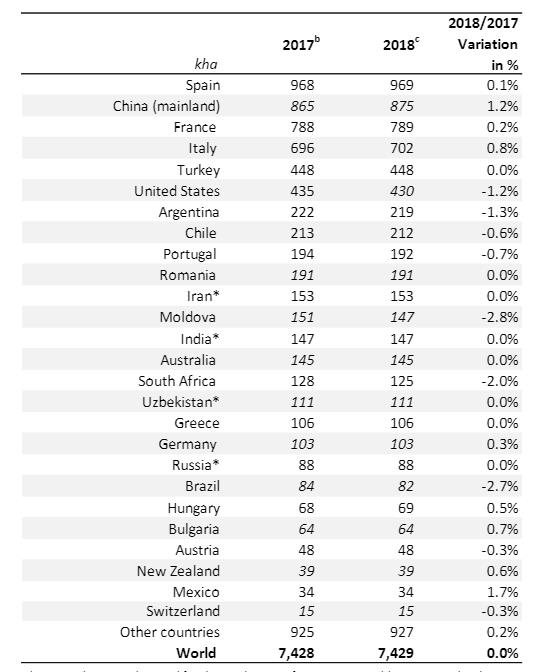 a) Area under vines destined for the production of wine grapes, table grapes or dried grapes, in production or awaiting production 
b) 2017: provisional data
c) 2018: forecasted data
Figure in italics: OIV estimate 
* Carried over from latest available data
Sources: OIV, OIV Experts, Trade Press, FAO